ORDER TODAY TO GET THE FIRST ONES THAT ARRIVE!!
Deluxe package might not come exactly as shown.
Simply switch off the iron and stop picking up junk. You think it's true? White's has released a new product 2018 – a White's Goldmaster 24K detector. That's the good news as it first of all means that White's brand still works. The resignation of their lead developer, unsuccessful novelties, elderly owners, attempts to sell the company, Chinese top managers – I need hardly say that after such chain of events you can expect just about anything from White's. So far we have good news – here comes White's new machine based on a Bi/XGB technology.
SENSITIVITY – Set the sensitivity at a level that does not result in false signals from the ground. Very strong ground may result in the symbol on screen and a loud sound – this means the sensitivity is too high.
GROUND BALANCE – With the default setting, the detector will use XGB to automatically ground balance. Tap to lock the ground balance to the current setting. Tapping when the ground balance is locked will update the current ground setting to what is under the coil.
GROUND SCAN – Hold to put the detector into Ground Scan mode. The top bar displays the ground strength and the two digit numbers display the ground type (phase). Useful for tracing paystreaks.
IRON CANCEL – Tap to silence hot rocks, trash and mineral changes in both audio modes. Hold to select the Iron Cancel setting (1 bar is default). Note that this setting may decrease the detector's sensitivity to very small gold, but is necessary in difficult ground conditions.
VOLUME and THRESHOLD – Tap to adjust the volume with the up and down buttons. Hold to adjust the threshold with the up and down buttons ("th" displays on screen). Set these to a comfortable level for your hearing and preference.
AUDIO MODE – With the displayed on screen, the detector is in "BEEP" audio mode (high tone = good target, low tone = bad target). The default setting (without on screen) is a traditional All-Metal audio mode with greater sensitivity to small targets.
SAT – SAT can smooth out ground inconsistencies. Hold to adjust it ("Sa" displays on screen, 2 is the default setting).
PINPOINT – Hold for non-motion pinpoint mode. In difficult ground this mode may be affected by mineralization.
BACKLIGHT – Tap to enable the backlight (this reduces battery life).
FREQUENCY SHIFT – Hold when turning the detector on to shift frequency (useful when there is EMI). Power off to save the selection.
FACTORY RESET – Hold when turning the detector on to perform a factory reset.
White's Goldmaster 24K Technical Specifications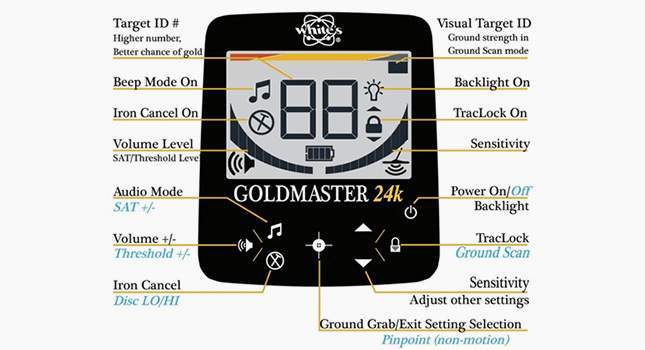 Technology – Induction Balance (IB)
Frequency – 48 kHz
Autotune Mode(s) – Variable Self Adjusting Threshold (V/SAT)
Ground Rejection – Tracking & Fixed w/Grab function, Ground Balance Offset
Soil Adjust – No
Discrimination – Visual & Audio Ferrous ID
Volume Control – Yes
Threshold Control – Yes
Tone Adjust – No
Audio Boost No
Frequency Offset – Yes
Pinpoint Mode – Yes
Audio Output – 1/4″ headphone socket & speaker (Headphones Included)
Hip Mount – Shaft Mount Only
Standard Search Coil(s) – 6″ x 10″ DD Coil standard; dual coil package with 6″ concentric also available
Optional Search Coils – Yes
Battery Rechargeable – NiMH plus Eight AA Pack Included
Operating Time – 20 – 40 hours
Weight – 3.6 pounds
Additional Technology – XGB Ground Tracking Technology, Ground Scan mode for tracing black sand deposits
Notes – IP 54 Rain & Dust Resistant